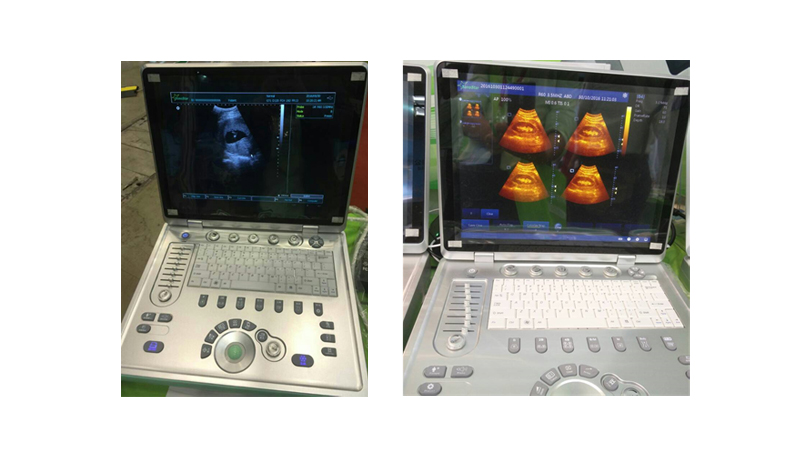 Technical Specifications:
15 inch LED screen, 2 probe connector ; 3D image function : Rebuilds 3D image by any probe
Maximum Scanning Depth : 250mm ; Multi-frequency : 5 segment frequencies
Cine Loop : max. 1024 frames ; Image gray scale : 256 level gray scale
Scanning mode : B, 2B, B/M, M, 4B, 9B, ZOOM; Real-time Zoom on B mode
Image processing : Pre-processing, after-processing, dynamic range, frame rate, line average, edge
Enhancement, Black/White inversion; Gray scale adjustment, contrast, brightness, γ revision.
Gain: 0-100dB; Time gain control(TGC): 8 segment adjustment, B, M adjustment separately.
Measurement and Calculation(human):

B mode : Distance, Circumstance, Area, Volume, Angle, Ratio, Stenosis, Profile, Histogram
M mode : Heart rate, Time, Distance, Slope and Stenosis
Gynecology Measurement : Uterus, cervix, endometrium, L/R ovary
Obstetric : gestation age, fetal weight, AFI
Cardiology : LV, LV function, LVPW, RVAWT
Urology : transition zone volume, bladder volume, RUV, prostate, kidney
Small Parts : Optic, Thyroid, Jaw and face.
Veterinary : Cattle: BPD, CRL, TD; Horse: GA; Dog: GS; Cat: HD, BD; Sheep: BPD, CRL, TD

Supported output apparatus : U-Disk, Laser/ink printer, video printer, VGA
Zoom : 10 ratio, 1.5, 2.0, 2.5, 3.0, 3.5, 4.0, 4.5, 5.0, 5.5, 6.0
Image Store : by hard disk or USB disk, Saves Image and Videos (avi or swf format)
Standard Configuration : One each : Main host, Convex probe(3.5MHz), Power adapter, Aluminum trunk.
Optional : Probes : Linear, Trans-vaginal, Micro-convex, Rectal; Bag; Trolley.
Winning Advantages:
Thin and Light. Full digital Imaging Technology, Crystal-clear Image. 3D Image function. Windows based, Abundant functions. Save Image and Videos. Built-in battery (Work 5 hours).
Detail Report Edit Function. Powerful Image Management. Large Volume Storage Image and Cineloop.
DICOM display and transfer. Compatible with Laser / Inkjet Printers.
Abundant calculation functions and can select different calculate formula.
Save and select some groups inspect parameter so save time to adjust per time.