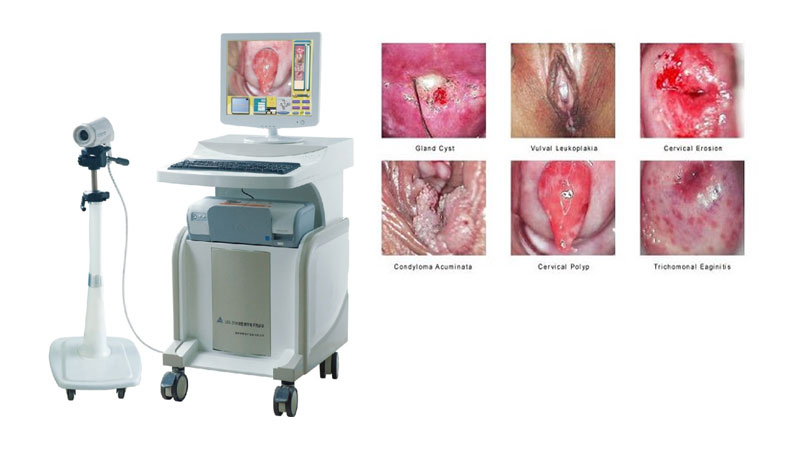 Detects Pathological changes in Vulva, Vagina and the Cervix, filtering Cervix cancer
Technical Specifications
| | | |
| --- | --- | --- |
| Mode | : | Green, Black / White |
| Imaging Mode | : | Colour |
| Image Freezing Control | : | Finger Control, Footswitch / Software Control |
| Minimum Illumination | : | 0.0 Siux |
| Signal-to-Noise (SNR) | : | >50 db |
| Electronic Shutter | : | 11/10,000 sec |
| Light Source | : | Multi-point surrounded high-brightness white cold light source |
| Back-lighted | : | Compensation automatic |
| Focus Area | : | 150 - 350mm |
| Zoom Optical Varifocal | : | 32 times |
| Digital Varifocal | : | 10 times |
| Dynamic Timing Control | : | Real-time display of acetic acid and iodine reaction tests |
| Video-out | : | PAL/NTSC 1.0 vp-p, 750 |
| Software | : | Windows XP, V ISTA, 7 /8/10 Ultimate |
Winning Advantages:
High Resolution 830,000 Pixels CCD. Advanced Image Processing Technology. ¼" high resolution colourful digital CCD camera. Auto/Manual Fast Focus control.
Speedy Automatic Functions of the Camera. "freeze, filter, zoom in, zoom out, white balance"
Unique Light Source Design : Adjustable super cold LED light source / brightness. Diameter 2mm. <5%
Abundant image data can be stored. Data Management and Analysis Function.
Integrated Computer Imaging. Powerful image software and work station system
Timing of acetic acid and iodine reaction tests.
Contains standard case report template, convenient to Edit / Print the Report.
Case report can be searched and back‐up copied.
Professional green-filter techniques, Image freeze, White balance, Auto focus,
Collects static images continuously. 99 Dynamic browse images. Continuous cineloop. Record of dynamic images in 6 different sampling frequencies.
Compares 4 pictures in the same screen. Executed by multi-orientations, multi-angles and dynamic consultations. Functions of copy, freeze and others.
Image enhancement functions to improve checking rate of micro-focus. Filter function ensures veins to be seen clearly with less loss of light. Very easy to operate Full-icon operation system.